Whoever said that diamonds are a girl's best friend, forgot about makeup! Diamonds are all very good, but what would we girls do without our makeup kit? Frightening thought, isn't it? But is it really possible to carry all the eyeshadows, highlighters, brushes and other eye makeup essentials everywhere? And if you are like me, then laziness to pack stuff can prompt you to rather look dull and tired then to exert yourself to pack things to look pretty! But, what if a sudden plan with your best friend, colleague or a fun party comes up your way? No worries, today I will show you an easy and quick eye makeup which can be done within 5 minutes and will also look great on anyone! Yes, and that too with just kajal and no eyeshadows! This tutorial is for everyone but is especially useful for lazy bones like me!
So, are you ready to learn some makeup essentials? Let's make you beautiful!
Eye Makeup With A Kajal
Step 1:
Find Fulfillment
- in Jesus! -
m.godlife.com/Jesus
Start by applying a good eye primer to your eye lid. As we are using a creamy product for the lid and will not be setting it with a powder eyeshadow, using an eye primer will be helpful in increasing the longevity of the eye makeup. Then, start by concealing the under eye area with a full coverage concealer, this step will add a lifted and fresh look to the eyes. Then, set it with a good compact powder to prevent any smudging or creasing of the concealer. Also ensure that the kajal sticks to the base well and doesn't smudge or move out during the day. Here, I used the Kryolan Derma Camouflage concealer to hide my under eye pigmentation.
Step 2:

Apply a black colored kajal close to the upper lash line thickly. I used the Lotus Herbals creamy stick kajal for this look. This step need not be neat as we will be smudging the kajal later.
Create a wing shape to make your eyes appear bigger and dramatic. If you are a beginner in eye makeup, then use a cello-tape to act as a guideline to create a wing.
Step 3:

Use a fluffy blending brush to blend it softly to give a smokey look to the makeup. Here, I used the Oriflame blending brush to achieve a soft look. This step will be easier if the kajal used is creamy in formula and does not set quickly into a smudge-proof quality. Then, apply the kajal to your tight-line by lifting the upper eye lid area.
Step 4:
Apply a concealer to the outer corner of the eye and clean up the wing to give a dramatic look. This step is optional, if you have restricted the makeup within the angle of your eye area.
Step 5:

Apply the same kajal eye pencil to the lower lash line and waterline of the eyes. Then, use a smudger or pencil brush to smudge the lower lash line to give a smokey look to the eyes.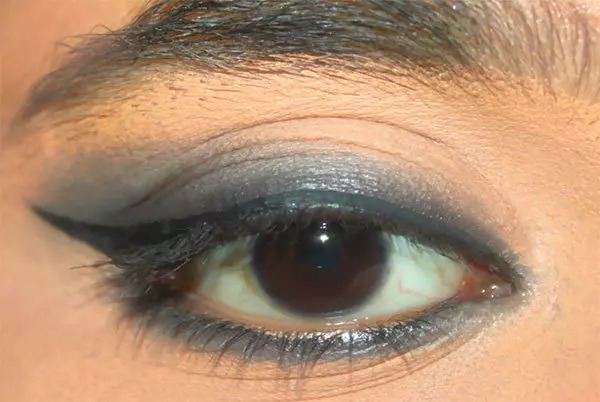 Apply mascara and line your eyes in a dramatic wing shape to complete the eye look. Now you are good to go!
You can easily try this eye makeup look with any colored kajal, such as blue, green, brown or grey according to your preference. If you have extra time and products, then set this look with a matching powder eyeshadow to make the makeup look last longer.
Do not let laziness keep you from looking pretty! You don't even need all those makeup products to look beautiful either! Follow this tutorial and give your eyes the wow factor without spending oodles of money or time! It cannot get easier than this!
Next time you are in a hurry, use this simple technique and you'll be ready to go!
Do try it and share with us the compliments you garner. We look forward to hear from you! Do write back in the comment section.
Read More